One of the biggest challenges for a company with a new idea for a chip is managing the whole chain from design through manufacturing and testing to shipping silicon. To solve this, Sondrel provides a full turnkey ASIC service that manages every stage of the process of taking a chip from concept to final silicon and you have one highly experienced point of contact managing the whole process for your peace of mind.
We have been designing chips for decades. We have seen the issues that occur further down the supply chain after us so often that we now offer a complete service that extends to cover the whole supply chain. We work with customers from the very start of concept planning and architecture of a new chip though its design, prototyping and production so we have an intimate working knowledge of every aspect of the chip. And we have earned the trust of the customer so they know that we will provide the continuity of service and excellence right through the rest of the supply chain.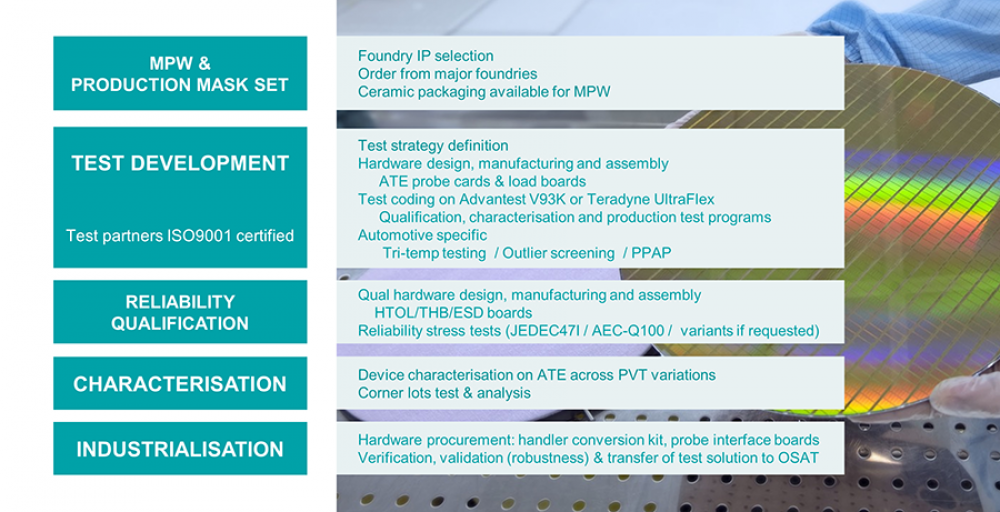 Sondrel's Silicon Operations Team supervises and manages all the companies that supply downstream stages after the design is done from liaising with the fabs through to selecting the most appropriate packaging OSAT, Test Development and logistics partner for shipping the final packaged and tested chips.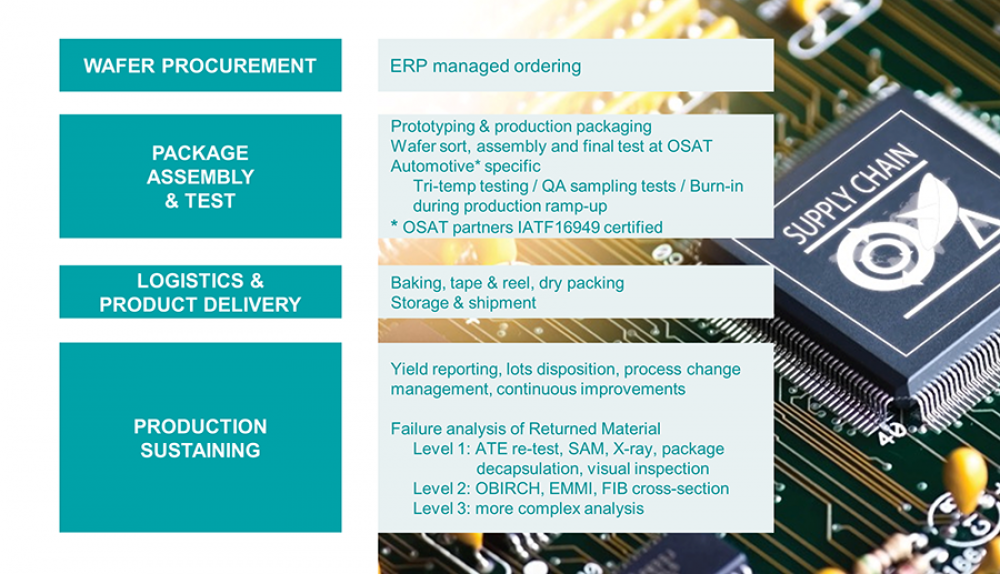 Fabrice Debart, Sondrel's Silicon Operations Manager, explains, "This fully integrated, end-to-end service ensures that there are no discontinuities or delays in the supply chain. For our customers, this means having a single point of contact to deal with all of the supply chain aspects, allowing them to focus on their core business. This also means a faster time to market for them because we know where possible problems and bottlenecks may arise and how to solve them. For example, how to test a chip with billions of transistors to make sure it is working to specifications? How to define the right test strategy and implement enough test accesses in order to get an optimal coverage and reduce the risks of latent defects? This is even more true in Automotive which requires higher level of quality and targets zero defects. The integrated relationship between the Silicon Operations Team and the chip design team allows us to be very effective in those areas."
Our Software Team
Sondrel's software team is completely equipped to design and develop the necessary software to get to BSP (Board Support Package) level.
We are fully experienced in producing software to driver and validation test level for the whole SoC. This includes getting the OS up & running, sourcing and writing drivers, performing validation using the bring up board.
Talented SoC Firmware Specialists
The table in this illustration demonstrates our very broad coverage of experience and knowledge. We bring in contractors where we would benefit from particular specialist knowledge.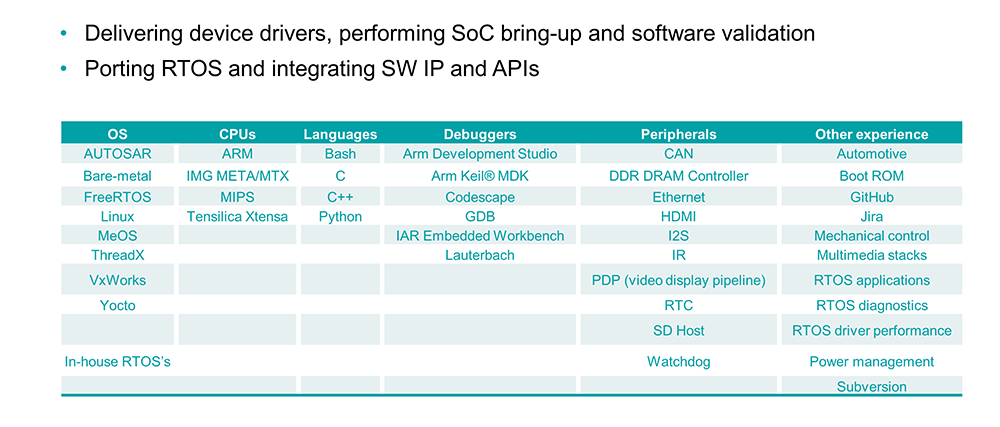 Over recent projects, the team has delivered drivers for more "exotic" IP such as processing arrays and security. Our full-system security experience refers to implementing security for the whole system.
No matter how diligently we select IP, there will always be software integration issues and this has led us to adding support in Linux drivers and subsequently "upstreaming" that.
To offer an application example. We recently taped-out a very large SoC capable of processing multi-stream 4K video to perform surveillance analysis using a custom Neural Net processor.