Working at the Cyber Pearl Building in HiTec city

At the high tech heart of Hyderabad
Sondrel's office in HiTec City opened in summer 2018, but it's culture blossomed in summer 2019. With new engineers joining the team every month we're well on our way to reaching our target of thirty full time engineers in the Hyderabad design centre by the end of the year. And every new member of the team is warmly welcomed.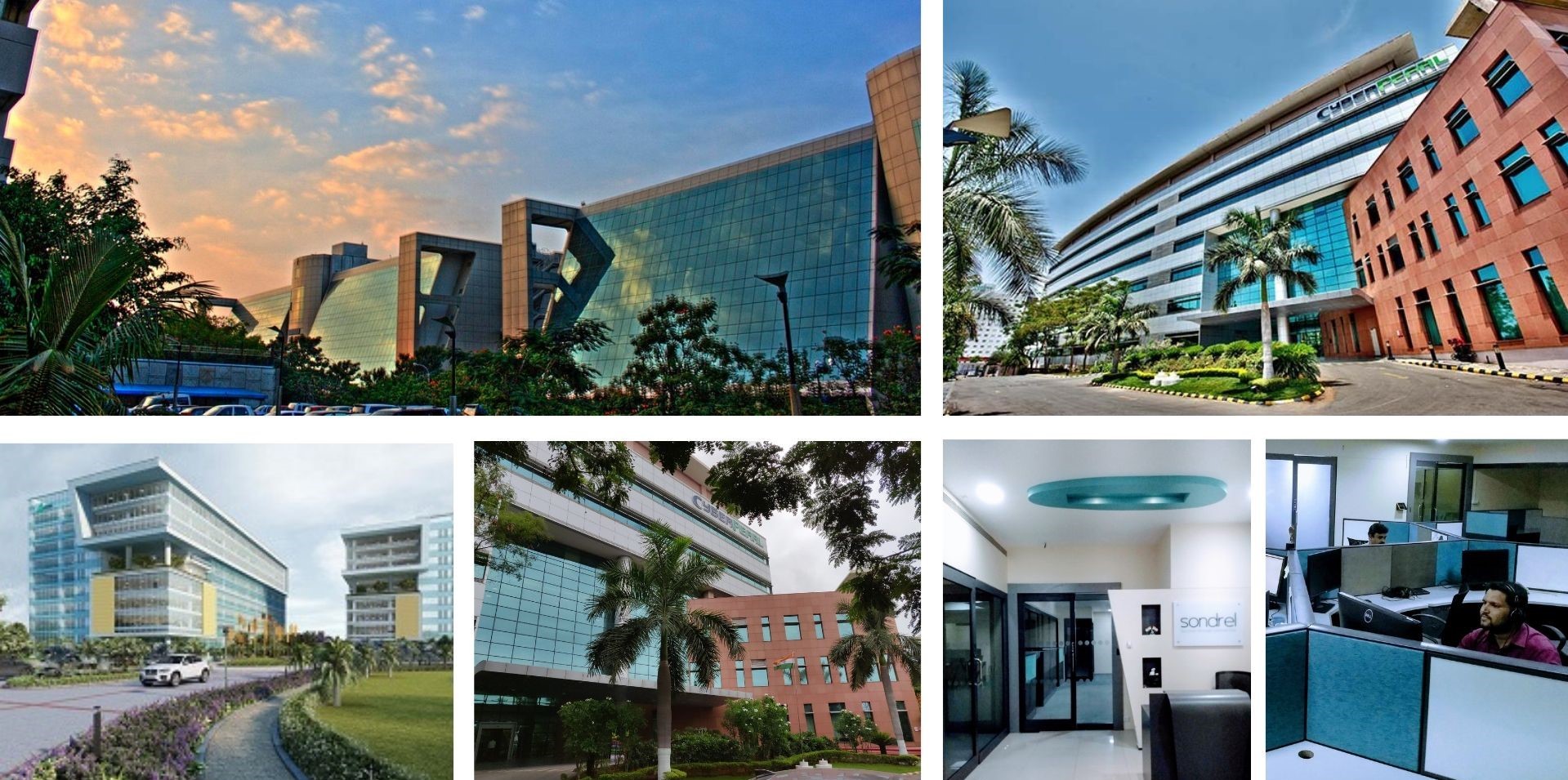 The Cyber Pearl building is in the heart of the HiTec City in Madhapur, Hyderabad, Telangana state (Click HERE for a map). The area is bustling with technology professionals. HiTec City was purpose built for technology companies and you will find a number of famous companies there, including a few big names from our industry. It is within easy reach of the airport and the popular residential areas of Khutapally and Jubilee Hills. The modern, streamlined office environment is softened by trees, flowers and beautiful landscaping in the spaces between buildings and around the business district. There are many restaurants and facilities in the area but our team likes to get out and about after work together, whether for birthdays, team social outings or to welcome visitors from other offices or from client companies.

Work-life balance
Creating the conditions for a great social life as well as a work life is part of the culture at Sondrel. In all our offices, we have monthly events that bring everyone in the building together informally to chat, eat and often try out different activities. This way, colleagues visiting from other design centres get to meet people outside of the immediate teams they are working on. We share stories and photos from our social activities on our intranet app and in our quarterly newsletter, where we get to see what teams in other offices get up to. Every Sondrel design centre has a social committee that organises events and get togethers for their colleagues. These can be anything the team chooses, from a competition to an art class or a themed event or a day out.
Recognising individual input
At Sondrel we have a reward and recognition scheme called Sondrel Stars. Every quarter we nominate people in our offices that have made a difference to win an award. It is a great honour to be voted for and acknowledged by your peers for great work on a project, for the support or skill you demonstrated or for the way you conduct yourself that simply makes the office a great place to be. The winners get a glass award and vouchers to spend as a bonus. One person who is regularly nominated is our HR manager in Hyderabad, Srujani Choudhury. Every day, she greets each person warmly and goes out of her way to make sure that everyone is happy and well supported in their work environment. More than that, Srujani is a passionate professional in her discipline whose commitment inspires the same level of enthusiasm and motivation from the people around her. It is Srujani who very often initiates the social activities, such as a trip to the water park for a thrilling day out.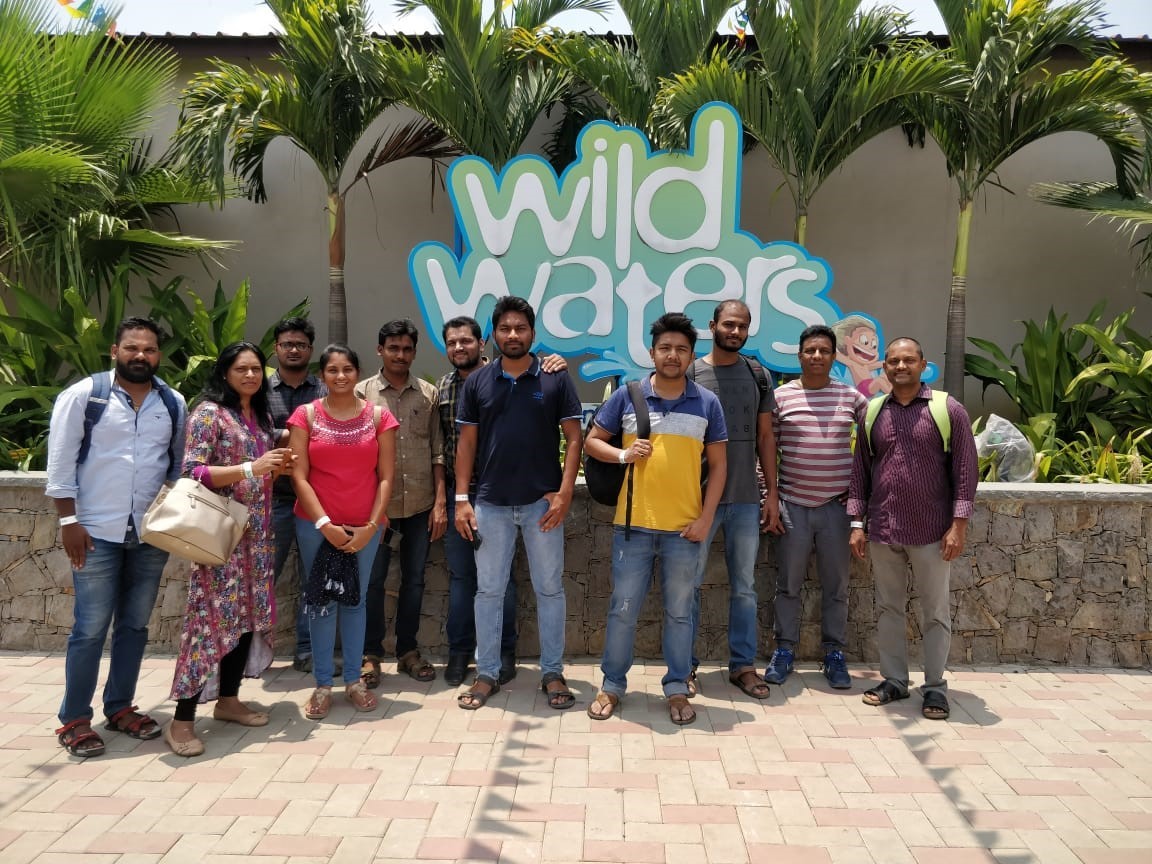 Dynamic teams
The activities we do alongside our engineering work help us get to know and trust each other better and build strong, respectful relationships in our environment. We work together in small teams within a project, often for several months but not as an isolated unit. We connect and interact with other teams in our office and across the company and the trust and respect we have for one another from working and relaxing together makes it easier to tackle the real challenges that complex IC design entails. The day out at the water park really highlighted who the adventurous and fearless ones Our social activities also help us welcome newer members of the team so they feel at ease in the office. We always celebrate birthdays and each and every month we have some social activities either inside the office or outside where we relax together.

Inspiring careers
We have a system whereby senior engineers mentor those earlier in their careers, however, we're not always working on the same projects as those we mentor locally. Our projects are multi-disciplinary and multi-site, run from our programme office HQ in the UK by our project managers. Some of our senior managers have excellent industry experience and have worked for famous technology companies. They are great role models as well as excellent problem solvers who can help with technical challenges as well as personal ones relating to the next step in our professional development.
We often have colleagues from other offices visiting. Here's a photo of our VP of Engineering at lunch with a project team.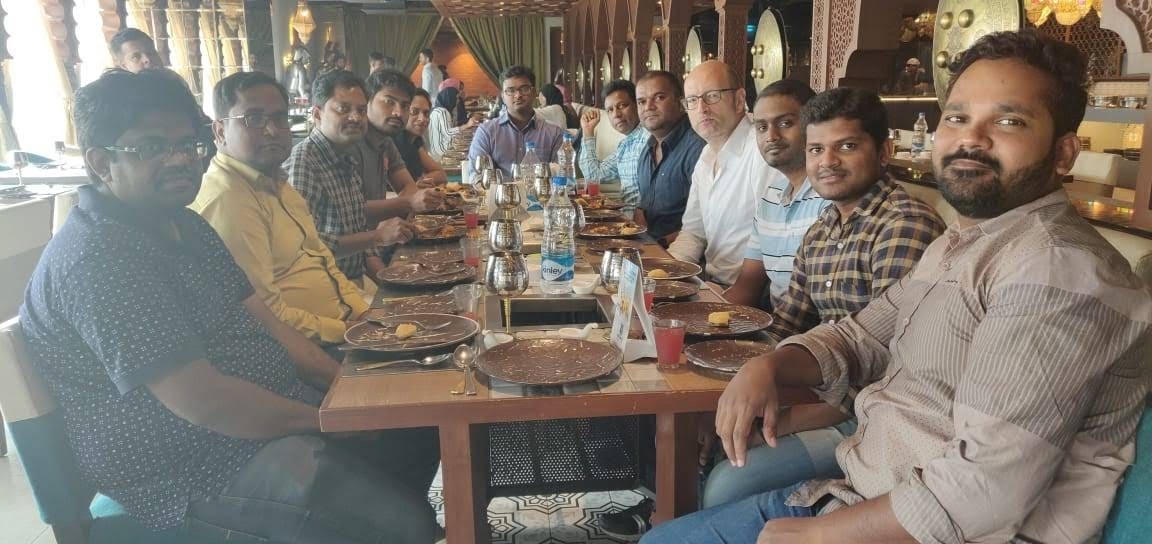 We also have plenty of opportunities to travel, whether visiting our design centres around the world or on extended stays. Veera is one member of our team who is now in the UK on a two year visa. There are other Sondrel employees there doing something similar, but from other offices. We have a truly multi-cultural environment at Sondrel which is very stimulating. Here he is in our Theale office in the UK celebrating his birthday with Julie, whose birthday is close to his.
This year some of our senior engineers from the Hyderabad team are presenting papers at industry conferences. We are looking forward to meeting others in our industry and our profession and getting a chance to explore some of the key topics in our specialist disciplines. DVCon India is one such event. More information about our conference schedule is available here.