Local A'Level students visit Sondrel HQ in Theale, Reading to talk to female engineers about their careers
Inspiring Women in Science and Engineering
We recently hosted a group of A' Level students from a school roughly five miles from our company headquarters in Theale, near Reading. The students are all planning to study science, maths or engineering subjects at university and are now looking at the career paths they could take once they graduate . We hope their visit inspired them about the possibilities in electronic engineering, and specifically in IC design.
We were originally approached by a teacher from the school who was keen to offer a group of girls some insights into working life for women in the engineering industry. On the day, one young man who is firmly intent on an IC engineering career joined the group. We hope they saw some very positive role models in the three female engineers who spoke to them about their work. At Sondrel, we are committed to attracting, retaining talented and committed individuals and we are aware of the statistical evidence that women are underrepresented in the electronic engineering industry. For Sondrel, playing host to a small group of students was another great opportunity to show our commitment to the electronic engineering profession and to creating a richly diverse culture within it.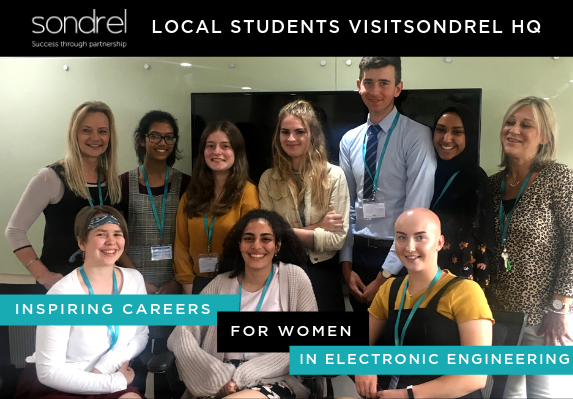 Why does inspiring women in engineering matter?
STEM is the acronym for Science, Technology, Engineering and Maths – an area of skills development highlighted as valuable to our increasingly digital economy. Studies over the last few decades have highlighted that females consistently outperform males in exams up to A Level (age 18) in the UK, but that there is a drop off in the number of women that enter and remain in engineering throughout their careers. This poses an alarming question: what happens to that talent? Furthermore, what value to both the economy and the industry, is missing as a result of the gender disparity in the engineering sector?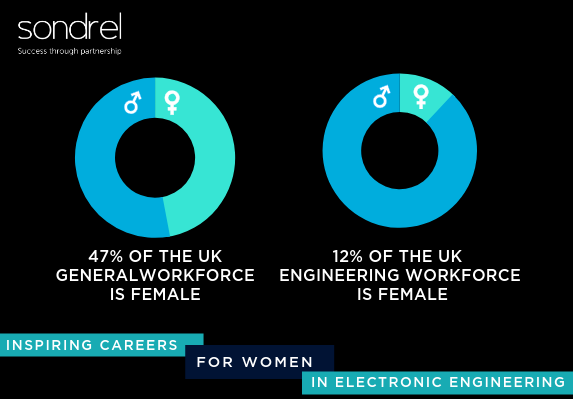 The bigger picture
According to a recent UK Labour Force Survey, just 12% of those working in engineering occupations were women compared with 47% of the overall UK workforce. Moreover, some calculate that £150 billion could be added to GDP figures if that balance were redressed in engineering. You can understand why, as an IC engineering design company, we were only too happy to take an active part in helping young women see what careers in engineering could look like in the hope that more choose to enrich the industry. We were also pleased to be able to show that, across all our global offices, Sondrel's gender balance far exceeds the very low 12% average that was found to apply across engineering in the UK as a whole. In Morocco we are more than half way towards reaching the aforementioned 47% female engineers. There, we have at least one female for every three males in the team.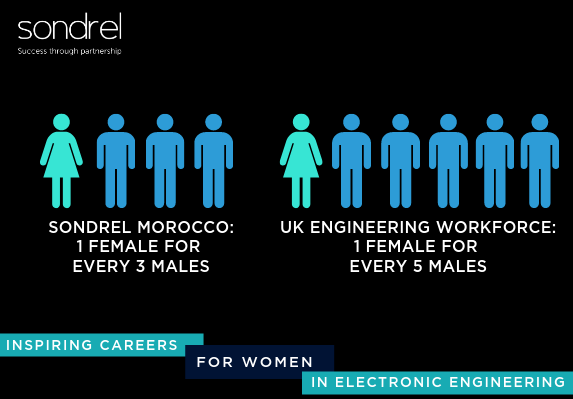 Defying Expectations
Across all our offices we are tracking around 25% above the UK average. In our China and Morocco design centres, the figures are much higher. In fact, one of the female engineers who addressed the students is currently working in our Theale office on a two-year secondment from Xi'an in China. As Dan Li herself shared, Sondrel has given her both professional and personal opportunities. She has progressed within her chosen discipline of physical design while also having enjoyed cultural and travel opportunities that have enriched her greatly on a personal level. It has also helped her language skills, which is helpful personally and professionally. The international nature of careers in IC engineering was one of the insights the students took away from the afternoon. Every day, Sondrel engineers work physically and remotely alongside people from a variety of cultures and first languages. The hierarchies in working relationships are purely based on project structures and experience, so gender, race and class are not obstacles.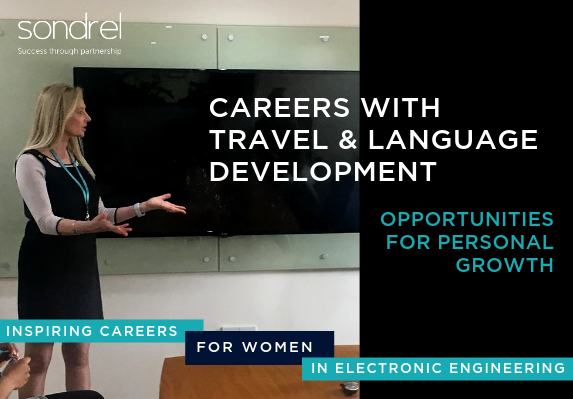 Following your heart and your head
The first engineer to talk to the students was Chief Technology Officer, Kevin Steptoe, who is also a visiting professor at York University. Kevin surprised the students and regaled the teachers with the story of how his engineering career began. Kevin took a break from his university degree to be part of a chart-topping pop band in the eighties before returning first to university then to the academic side of engineering before joining industry. Kevin's time in the band, The Leyton Buzzards as a drummer may sound unusual, but lead to another interesting and lesser known fact: that a high number of engineers are, or were once, musicians. At Sondrel we can evidence this with photos from last year's summer garden party, at which employees from different offices got together to form a band for the day.
As a lecturer in electronic engineering, Kevin was easily able to explain some of the key concepts that we work with every day. Judging by the feedback, the students were pleased to learn that technical subjects can be taught with a very engaging and natural delivery style. University courses in electronic engineering can be fun, fascinating and exciting as well as interesting and informative.
Meet the engineers
Three female engineers each then shared a little of their stories, starting with how they found their way into electronic engineering and what continues to motivate them about their jobs. Themes ranged from the daily achievements that come from solving complex logical problems, to the rewards of being able to mentor younger colleagues and address industry peers by presenting at international conferences. It was obvious that these were people who loved their career discipline and the industry they are part of.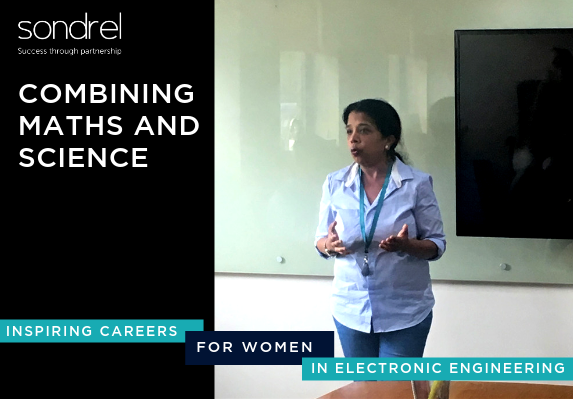 Combining interests in your career choices
Revathi explained how it was her inclination towards maths and science that started her exploration of electronic engineering. She chose it because of a desire to combine both. In her work as a senior verification engineer she uses inductive logic, just like a scientist, to identify all the test scenarios required to verify (or disprove) that the chip and its components work exactly as specified in all conditions. Every day she uses mathematical formulae to calculate the exact way that functions within the chip will perform and the parameters in which they will work.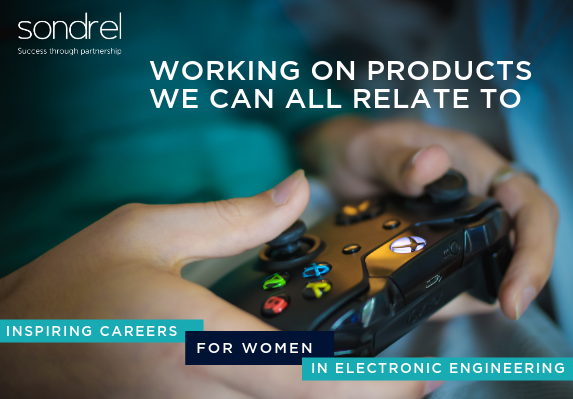 Contributing to everyday lives
Dan Li talked about how her first project at Sondrel was on the chip for a famous gaming console. At university she had worked on radiation detectors, so being able to buy and use an iconic product that you had been part of making was a great thrill. Almost everybody in the room was familiar with the product in question. Being able to contribute to the making of products that millions of people will use and enjoy can be highly motivating.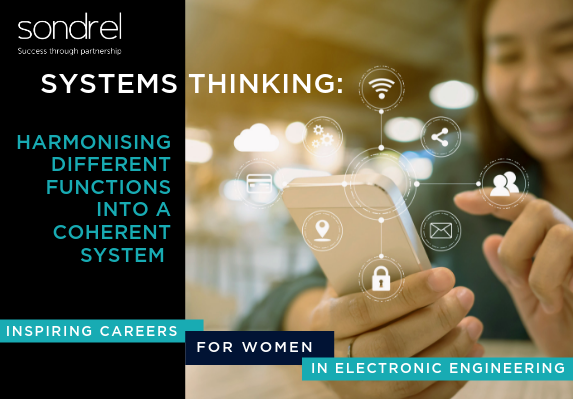 Systems thinking
Many engineers are drawn to electronics because of the intellectual challenge involved in packing a diverse range of features into one system. A smartphone chip design was used as an example. The group considered how the many features users want in a product are translated into functions that all have to work together in harmony on the tiny area of a smartphone chip. The Sondrel ladies were able to speak from experience of working on chips for some of the most popular and exciting mobile products. When you think about making individual elements and functions perform effectively together, IC engineering is similar to many other professions. It's simply that the detail of what is being combined requires specialised knowledge and particular skills.
Seeing the up-side
When asked what it was like to be one of the few females in a classes at university, the ladies responded with a very positive attitude. One said she was thought she would have an easy time finding a boyfriend! Others mentioned that they were proud to be there and pleased to find that they found the work easier than some of their male counterparts. Evidently, the pressure works both ways and some males choose engineering courses more from peer pressure and expectation than from their own real desires to succeed in the field.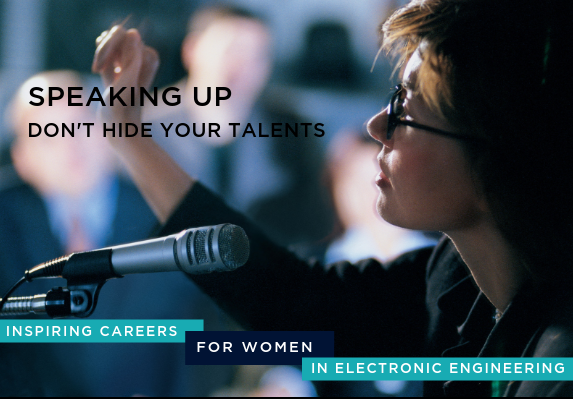 Speaking up
Logically there is a high likelihood that with fewer women than men in engineering roles, you're likely to be the one woman in a meeting full of men at one point or another. This could start at university. The advice was to make sure you're heard and not hide your insights and ideas. Being shy can mean that the project suffers too.
Finding your way
As a business Sondrel is fervently committed to nurturing engineering talent and providing fulfilling career paths for employees that offer opportunities for growth and development. We have a range of extra employee benefits and activities to create a good work environment and a healthy work-life balance. Although we cannot speak for other employers in the electronic engineering sector we do aim to create the conditions for happy, fulfilled and motivated employees and we believe that talent has no gender, no race and no age limit. As an employee, it's important to choose a company that has some of the same values that you do, so that you'll feel you fit in and can contribute meaningfully. We encourage the students to remember that a rewarding career is a partnership between the employer and the employee. Choosing how best and where best to apply their talents will set them for a happy career.
To read a transcript of Dan Li's talk and hear more about one female engineer's story, follow this blog and follow us on LinkedIn to see when we post new articles.
If you are interested in arranging a visit for a group of students contact us careers@sondrel.com