Leading the Way to Develop Secure IoT Chip Designs using Arm's Musca-A & Sondrel Engineering Expertise
The Challenge
Businesses increasingly recognise that you need to build technology solutions for IoT that have security designed in at both the hardware and software level, or you are putting your own business and your customers' security at risk.
With the explosion of devices that incorporate technology and connect to the cloud, IoT, we recognise that designing devices from scratch is time-consuming and increasingly complex. Developing secure devices that are adequately protected against malicious attacks is a massive concern.
A Solution
Both Arm and Sondrel aim to promote and deliver the best way forward for customers to get secure, high quality IoT designs to market.
To solve the problem of reducing time-to-market, whilst ensuring a secure solution Arm has developed the Arm System Design Kit (SDK) family. The Arm System Design Kit family form the foundation of the Arm Musca program, and Arm worked closely with Sondrel to design the Musca-A test chip, which now powers the Arm Musca-A development board. The board makes designing security into products faster and easier for developers.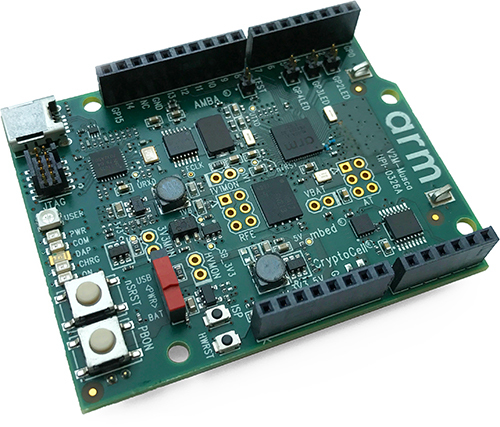 Arm Musca-A development board
The board follows the principles of the Arm Platform Security Architecture (PSA), which provide a common foundation for security design. PSA provides essential ingredients (such as threat models, security analyses, specifications and open-source firmware), spreading best security practices for IoT and allowing security to be consistently designed in, at both a hardware and firmware level. Musca-A provides a reusable SoC reference implementation and a software development environment, to accelerate time to market.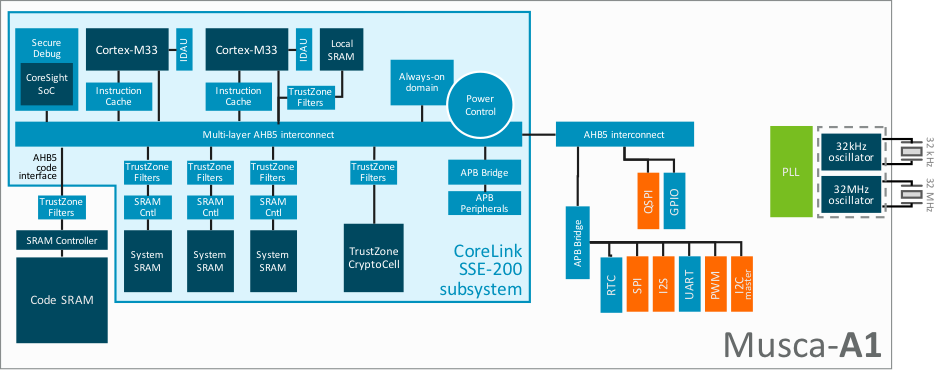 Musca A Block Diagram
As briefly mentioned above, the Arm Musca-A test chip is based on the Arm Cortex-M33 processor and the Arm SDK-200 System Design Kit. The SDK-200 System Design Kit is a toolbox for SoC designers working on systems that integrate the new TrustZone technology which is now present on the latest Armv8-M processors such as the Cortex-M33 processor. The SDK-200 System Design Kit contains the Arm SSE-200 subsystem, providing a comprehensive secure IoT platform on which to base the chip design. Sondrel engineers were able to extend the security features of the SSE-200 subsystem to the full system on chip design, specifying and integrating essential subsystems such as connectivity, debug, memory, DfT and I/O connectivity. Working in close collaboration with Arm's engineering team the Musca-A1 was rapidly developed to produce right first-time silicon.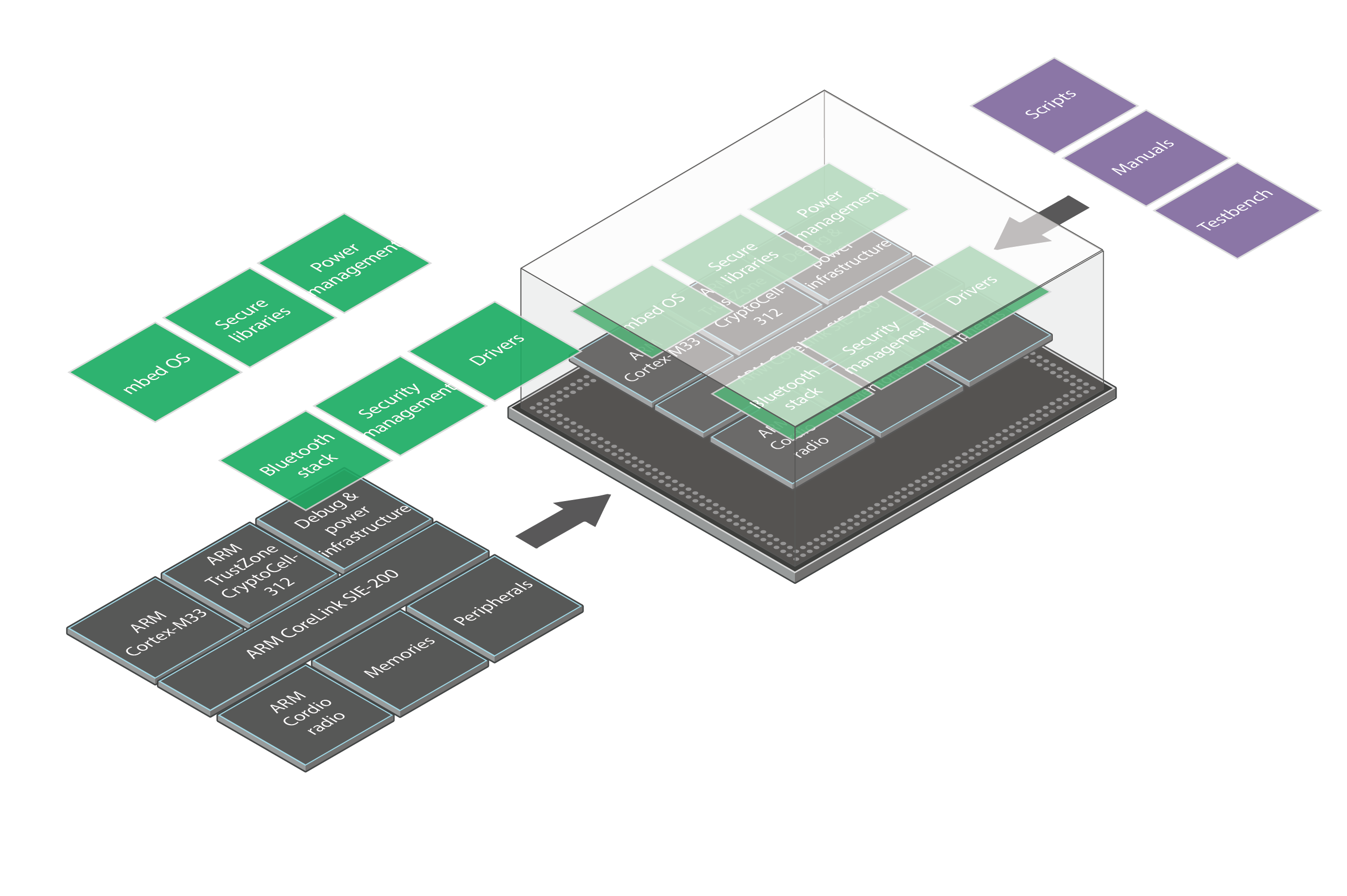 The Arm SDK-200 System Design Kit
In Summary
Many chips require common features. Arm has tailored the SSE-200 subsystem to incorporate these – leaving customers to add their 'secret sauce'.
Sondrel's key skill is the ability to integrate the differentiators of customer features quickly & efficiently into a SoC.
Combining Arm's hardware and software IP with Sondrel's SoC integration knowhow, we have demonstrated how it's possible for our partners to accelerate the development of sophisticated, secure IoT custom ASICs. It was a great collaboration and good teamwork, producing silicon right first time, and on schedule. This project also gives Sondrel the experience of working with the SDK-200, which will accelerate future designs of SoCs for IoT applications. We look forward to hearing about the secure designs that developers are creating using the Musca-A board!
Any questions? Need to speak to one of the team? We'd love to hear from you! Find our contact informations here, or email me directly on the email address above.