Graduate Recruitment Programme
The annual UK Graduate Recruitment Programme is part of our ongoing commitment to encourage and nurture talent and to facilitate fulfilling careers in IC engineering.
Sondrel's graduate programme provides the opportunity to get involved in chip development from the outset. What is more, there is guaranteed exposure to a wide range of disciplines and application areas and the chance to learn from some of the brightest people in the industry.The type and variety of work here is unparalleled. The breadth and depth of our work is what gives us architectural authority and the skill of dealing capably with the unexpected twists that occur when your work is constantly breaking new ground.
We sincerely hope you are inspired to join us and be part of our vibrant global culture.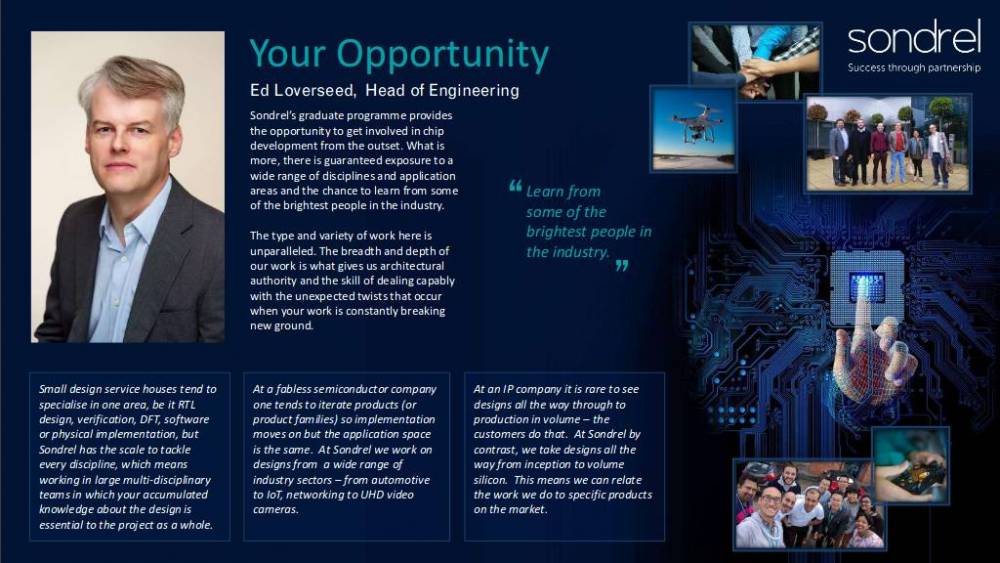 Find out more
Next Steps
If you would like to be considered for our next intake of graduates, send us an email to G2022@sondrel.com.
Meantime, you can exercise your little grey cells by trying to crack the code in our Graduate Programme brochure. Sorry this one's closed but hopefully you will enjoy the challenge!